Harleigh Cemetery is a magnificent historic cemetery and crematory located in Collingswood and Camden, New Jersey.  Established in 1885 and set on over 150 acres with rolling hills, lakes, and thousands of trees, it is the final resting place for hundreds of venerated individuals. Here are a few graves to visit to pay your respects.
Walt Whitman
Poet and author of acclaimed "Leaves of Grass", Walt Whitman took great care in designing his final resting place and is visited by many each year. Whitman is remembered for his contributions to literature as the father of free verse and as a transcendentalist.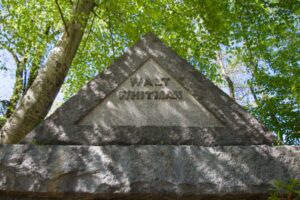 George C. Burling
As a Union Army officer in the Civil War, George C. Burling was instrumental in the Battle of Gettysburg. He organized several militias and his contributions to the army are longlasting. Burling is buried among several other Civil War heroes.
Charlie Rice
American Jazz drummer Charlie Rice played among Jazz's most prominent stars, including John Coltrane, Eddie "Lockjaw" Davis, and Chet Baker. Rice was born in Philadelphia at a time when Jazz was spreading like wildfire across the country. He died at the age of 98 in 2018.
Ella Reeve Bloor
Also known as "Mother Bloor", she was a rebellious political organizer born in 1862. She was instrumental in the women's suffrage movement and was a prolific essayist in the socialist, labor, and communist movements.
Nick Virgilio
The reason many Americans know the poetry form, Haiku, is likely to Nick Virgilio's credit. Virgilio popularized the Japanese poetry style throughout the twentieth century and was often featured on radio shows. His famous poem "Lily" is engraved on his headstone. Learn more about Nick Virgilio.
Louis Cicalese, cemetery trustee in New Jersey is president of the board of the historic Harleigh Cemetery and serves as an advisor to a number of non-profit cemetery organizations in New Jersey.